Los Angeles Marathon XXI wearing Vibram® FiveFingers™ Barefoot Shoes
BUY VIBRAM FIVEFINGERS
Ran the LA Marathon as a training run in preparation for the upcoming Boston Marathon.
Ran it in 3:30:57 which puts me in the top 7% of the 40-44 age group.
It was the first road marathon that I ever wore shoes!
photos by MarathonFoto
I was sponsored by Vibram® to wear a pair of their soon to be released FiveFingers™ barefoot shoes.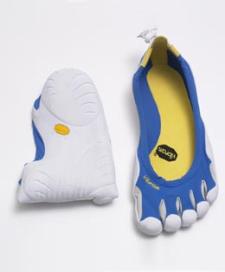 I am still testing these shoes, but so far, I must say that I am impressed by their quality. The feel is as close to barefooting as you can get.
I am looking forward to wearing them in Boston.
Labels: barefoot shoes, fivefingers, marathon